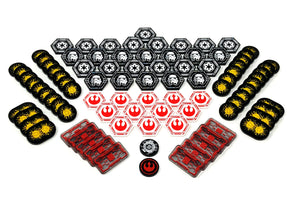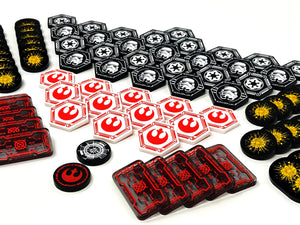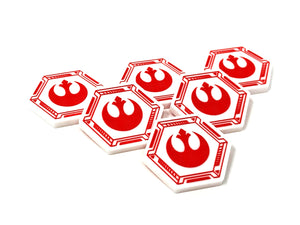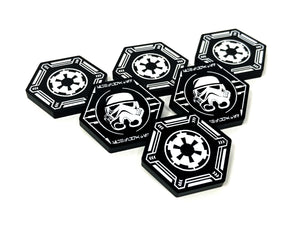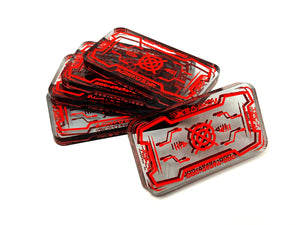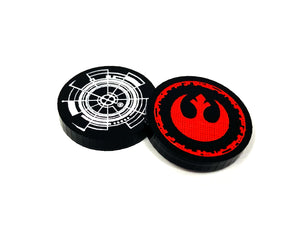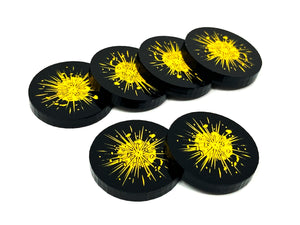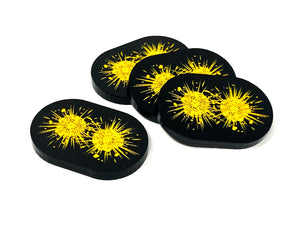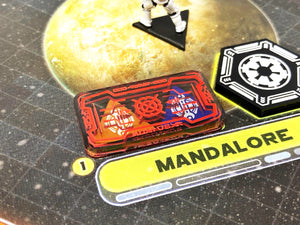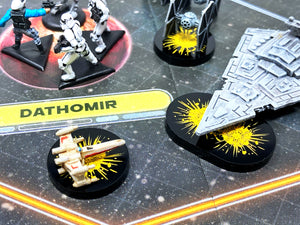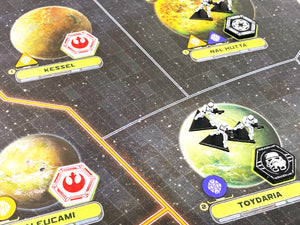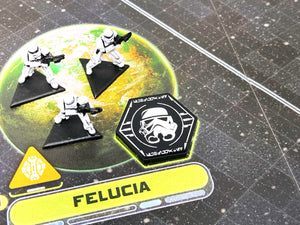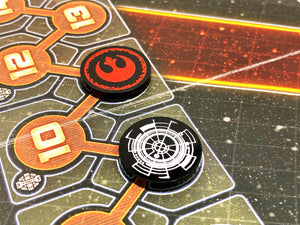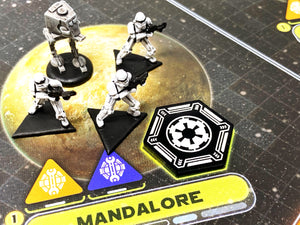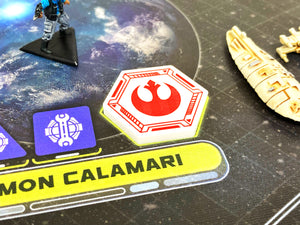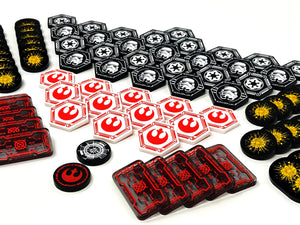 Token Set for Star Wars Rebellion
Our acrylic token set for Star Wars Rebellion provides all of the tokens needed to replace your core set cardboard originals.
What makes it special?
- With easy-to-read designs and highly contrasting colours, these tokens are both a thematic and practical upgrade for your games, making reading the board state at a glance a breeze.
- Made from hard wearing three millimetre thick acrylic, they are not only durable but are far easier to pick up and flip over during use.
- Combat damage token foot prints have been reduced to make space and ground combat battles less crowded on the game board.
- Translucent Sabotage markers allow for easier viewing of the unit build icons below without the need to constantly check underneath.
- All of our tokens are etched on both faces and painted by hand for a true premium feel and appearance. 
What does this listing consist of?
1 x Time marker token 
1 x Reputation marker token
12 x Rebel loyalty tokens
27 x Imperial loyalty / Subjugation tokens
10 x Sabotage tokens 

32 x Single damage tokens

8 x Double damage tokens
Why Choose BTST?
Designed and manufactured at the Buy The Same Token studio, in Sussex, England.
As gamers ourselves all our items are thoroughly play tested to ensure they are not only beautiful to behold but practical to play.
Our tokens are lovingly and expertly crafted to ensure all our designs are not only thematic and striking but also easy to read.
All our items are robustly made from the finest materials, designed to last.
Lead Time:
Please refer to our "Lead Time" page from the main menu for current Lead Times
Acrylic Technical Details:
These items are laser etched and cut from the highest quality 3mm acrylic and painted using high quality heavy body acrylic paint. Please see photos for scale comparisons.
These items are typically supplied with a white protective paper film front and back to protect them during production and transit which should be removed once received.
Although these items are cut from 3mm acrylic, this material is of low tolerance and therefore may deviate up to 0.7mm -/+ in thickness. Although every effort is made to ensure your tokens are table ready once received and peeled, if there any issues with your items please let us know so that we can make it right.
Disclaimer:
Ruler, miniatures, cards, and backgrounds for scale purposes only.
These are third-party accessories designed and manufactured by Buy The Same Token. Though compatible they are not associated with or officially endorsed by Fantasy Flight Games, Asmodee, Disney or any other entity.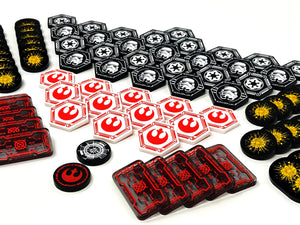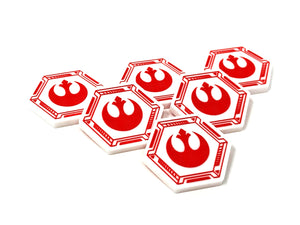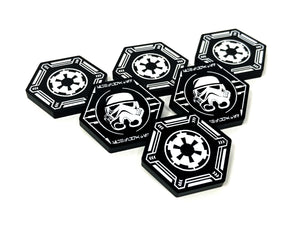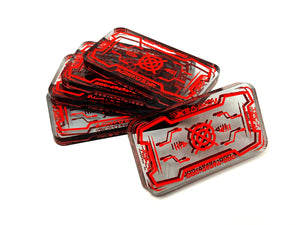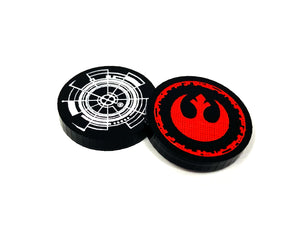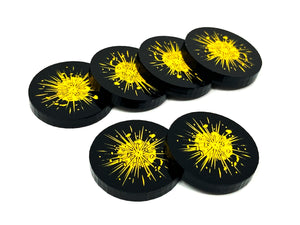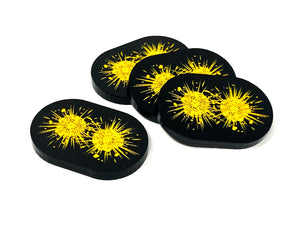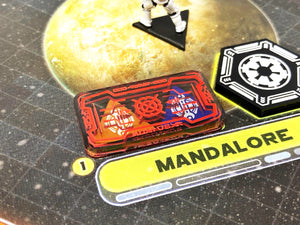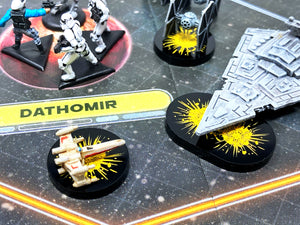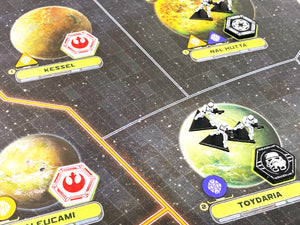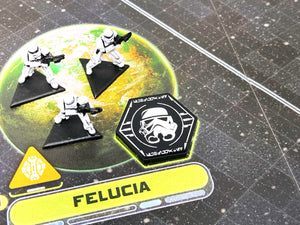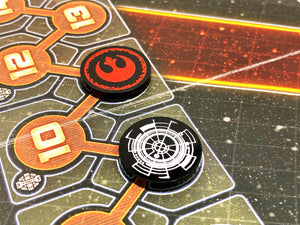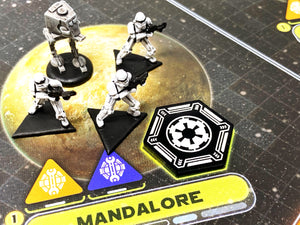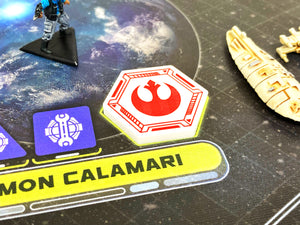 Exceptionally pleased.
Very happy with the quality of these tokens. I have purchased from a few other suppliers, but the tokens from BuyTheSameToken stand out as being far better quality. I am really looking forward to using these with my next game. One small note: the tokens are thicker than the original cardboard ones. I like the feel and heft of them; however, I have a custom made insert for the game, so a few of the counters do not fit in their specific location. I just store them in a bag and use them first during setup. I only wish they made a set of tokens for War of the Ring and Battle of five Armies. (note: photo is not of game play, I just placed the tokens beside some of the figures to show what they look like on the board)
Wunderfull addition for the game!
Not only do these tokens feel bettet than the original card board ones (and also compared to those of other vendors), an make your games more enjoyable. These especially show the dedication of BTST to providing additional benefit were possible: Having the sabatoge token transparent is a great ideal!