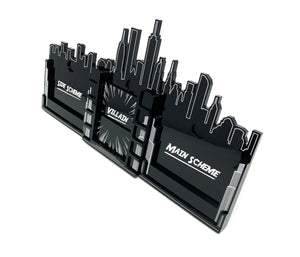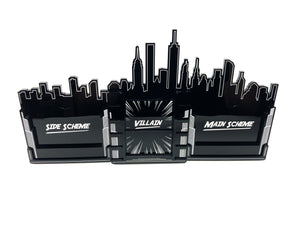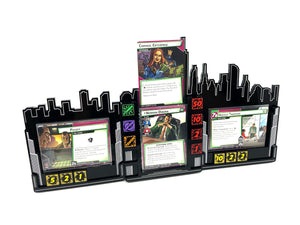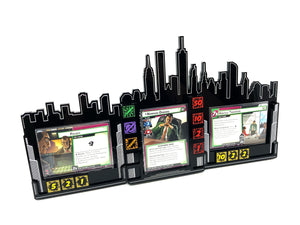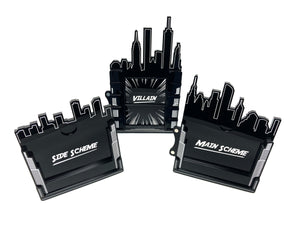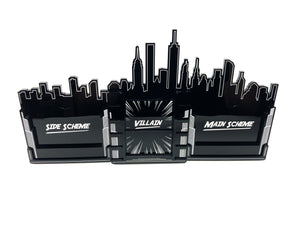 Standard Villain Set for Marvel Champions LCG (Tokens Not Included)
What is included:
1 x Villain display
1 x Main Scheme display
1 x Side Scheme display
3 x Display stand supports.  
Design:
Our Villain and Scheme displays have been specifically designed to fit the theme of the Marvel Champions LCG.
During our design process we identified early on that it was important that the Villain and Scheme display add to the immersion and beauty of the game's art. In addition, what was critical was that these were functional items that made your games easier to play.
We have designed the displays as a "frame" to the game's cards. We wanted to accentuate the beauty of the original artwork not compete with it and therefore we decided on the stark black and white colour to help the colours on the cards "pop". We designed the holders to have a profile of the New York skyline, where most of the Marvel action takes place.
Functionality:
Our Villain and Scheme displays include several key features as follows:
-Multi layered acrylic on Side and main Scheme frames allows space for multiple sleeved cards to be placed.
- Token tray slots on Side and Main Scheme frames allows neat and easy placement and removal of our compatible threat tokens (SOLD SEPARATELY), as well as keeping the card text and art clear and visible.
- Staggered multi layers of acrylic designed into the Villain stand allows environments and attachments to sit neatly above the Villain, keeping them close and visible.
- Five token slots on each side of the Villain stand allow our compatible damage and status tokens (SOLD SEPARATELY) to be placed without obscuring the Villain card art and text.
- Finger holes cut into and above each card space allow easy removal and flipping of Scheme and Villain cards.
- Side Scheme frames are designed to stagger left and right of the central Villain stand, allowing neat and easy placement and removal of our damage and status tokens applied to the Villain.
- Additional Side Scheme boards can be added to the length in order to hold as many scheme cards as necessary.
- Stands: Our Villain and Scheme displays are designed to elevate your cards. Each display is supplied with a removable stand. This means the Villain and Scheme cards, as well as the threat and damage tokens, are easy to read while sitting at the table. There is no need to pick up each card to read them!
- Storage: Our Villain and scheme boards have been designed with quick setup and flat pack design in mind. Using strong Neodymium magnets and removable insert stands, the frames can be easily setup and disassembled in moments. Their layered design allows the Side Scheme and Main scheme frames to neatly face and insert into one another saving you as much space as possible when stored (Check out this Instagram post from Jussi For storage ideas: https://www.instagram.com/p/B8M19SyBLTj/?igshid=13btvej5xlc9u)
Designed to accommodate a range of sleeves including FFG (67mm x 94mm) - Token slots designed to accommodate our compatible 'Marvel Champions Tokens" (SOLD SEPARATELY)
Product dimensions:
- Villain display measures approximately 190mm x 125mm x 18mm
- Main Scheme display measures approximately 155mm x 131mm x 15mm
- Side Scheme display measures approximately 130mm x 131mm x 15mm
Why Choose BTST?
Designed and manufactured at the Buy The Same Token studio, in Sussex, England.
As gamers ourselves all our items are thoroughly play tested to ensure they are not only beautiful to behold but practical to play.
We use the best quality paints to ensure all our designs are not only thematic and striking but also easy to read.
All our items are robustly made from the finest materials, designed to last.
Lead Time:
Please refer to our "Lead Time" page from the main menu for current Lead Times
Acrylic Technical Details:
These items are laser etched and cut from the highest quality 3mm acrylic and painted using high quality heavy body acrylic paint. Please see photos for scale comparisons.
These items are typically supplied with a white protective paper film front and back to protect them during production and transit which should be removed once received.
Although these items are cut from 3mm acrylic, this material is of low tolerance and therefore may deviate up to 0.7mm -/+ in thickness. Although every effort is made to ensure your tokens are table ready once received and peeled, if there any issues with your items please let us know so that we can make it right.
Disclaimer:
Ruler, miniatures, cards, and backgrounds for scale purposes only.
These are third-party accessories designed and manufactured by Buy The Same Token. Though compatible they are not associated with or officially endorsed by Fantasy Flight Games, Asmodee, Marvel or any other entity.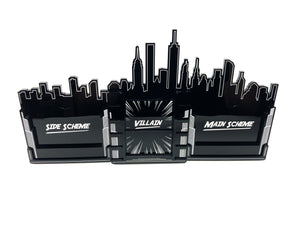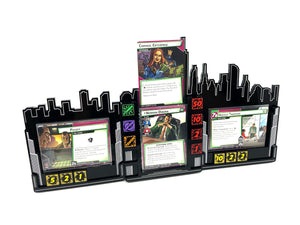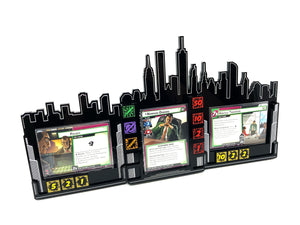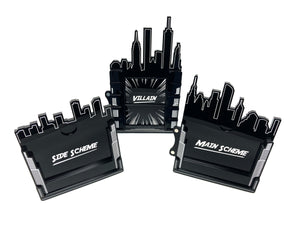 I got the villain set, hero board and custom tokens for Marvel Champions recently. The hero board and tokens both up the quality of the playing experience, but the villain set is a game-changer. Being able to clearly see the villain and scheme cards standing up in front of you, have the threat/damage/effects clearly organized and displayed, thoughtful indentations to make flipping cards easy, and a creative way to show modifier cards on the villain is amazing! Highly recommend this to improve the gameplay—nicely designed, Buy the Same Token!
A game changer!
Alright, let's get the price out of the way. These are expensive. I thought, why so pricey? Until they arrived. They are huge…and heavy…five layers of acrylic…and just beautiful. Worth every penny! And they really are one of those upgrades that just change the game so dramatically with the visual presence that all players can see and the audible click of that threat token being placed. We play with BTST's stands for Arkham Horror TCG and I can't imagine playing without them!