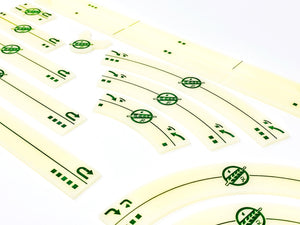 Mandalorian Crest - Manoeuvre Template Set - Star Wars X-wing Compatible
Cardboard is the path to the dark side. 
Cardboard accessories lead to anger. Anger leads to BuyTheSameToken. 
What is it?
A complete set of thematic, precision etched acrylic manoeuvre templates and range rulers that are compatible with X-Wing miniatures version 1, 2 and 2.5. Features include notches cut into the speed 1 & 2 manoeuvre templates which aid with ship position marking during gameplay.
What does this listing consist of?

The set includes the following;

- 5 x Straight manoeuvre template
- 3 x Bank manoeuvre template
- 3 x Turn manoeuvre template
- 4 x Range Rulers (range 1, range 2, range 3)
- 1 x Ship marker tool
Custom options and painting details
All templates are cut from 3mm acrylic and can be supplied painted or unpainted as requested.

We offer a large choice of acrylic and paint colour options which can be selected from the drop down menus.

Painted templates will have a protective film applied front and back post etching/painting which should be removed once received.

Unpainted templates will have a protective film applied to the top surface prior to etching to protect and aid the painting of the templates once received.

When painting your templates, we recommend carefully hand painting into the etched details with a small brush using acrylic paint. Allow paint to fully dry before carefully removing the masking film.

Although every effort is made to ensure that your painted templates arrive in a table ready condition, some light cleaning may be required upon receipt.

Please note that the acrylic used is of low tolerance and can deviate up to -0.7/+0.7mm in thickness.

Due to the custom nature of this item, exchanges cannot be accepted.
Why Choose BTST?
Designed and manufactured at the Buy The Same Token studio, in Sussex, England.
As gamers ourselves all our items are thoroughly play tested to ensure they are not only beautiful to behold but practical to play.
We use the best quality paints to ensure all our designs are not only thematic and striking but also easy to read.
All our items are robustly made from the finest materials, designed to last.
Lead Time:
Please refer to our "Lead Time" page from the main menu for current Lead Times
Acrylic Technical Details:
These items are laser etched and cut from the highest quality 3mm acrylic and painted using high quality heavy body acrylic paint. Please see photos for scale comparisons.
These items are typically supplied with a white protective paper film front and back to protect them during production and transit which should be removed once received.
Although these items are  cut from 3mm acrylic, this material is of low tolerance and therefore may deviate up to 0.7mm -/+ in thickness. Although every effort is made to ensure your tokens are table ready once received and peeled, if there any issues with your items please let us know so that we can make it right.
Disclaimer:
Ruler, miniatures, cards and backgrounds for scale purposes only.
These are third-party accessories designed and manufactured by Buy The Same Token. Though compatible they are not associated with or officially endorsed by Fantasy Flight Games, Asmodee, Disney or any other entity.
Template dimension details:

*IMPORTANT INFORMATION*

ALL TEMPLATES IN THIS SET ARE CUT TO THE FOLLOWING DIMENSIONS;

All manoeuvre template widths – 20mm

Straight Templates

1 Straight Length – 40mm
2 Straight Length – 80mm
3 Straight Length – 120mm
4 Straight Length – 160mm
5 Straight Length – 200mm

Turn Templates @ 90o

1 Turn Inside Radius – 25.0mm
1 Turn Outside Radius – 45.0mm
2 Turn Inside Radius – 53.0mm
2 Turn Outside Radius – 73.0mm
3 Turn Inside Radius – 80.0mm
3 Turn Outside Radius – 100.0mm

Bank Templates @45o

1 Bank Inside Radius – 70.0mm
1 Bank Outside Radius – 90.0mm

2 Bank Inside Radius – 120.0mm
2 Bank Outside Radius – 140.0mm

3 Bank Inside Radius – 170.0mm
3 Bank Outside Radius – 190.0mm

Range Ruler Template

Range 1 Length – 100mm x 15mm
Range 2 length - 200mm x 15mm
Full Range Ruler Template Length – 300mm x 15mm