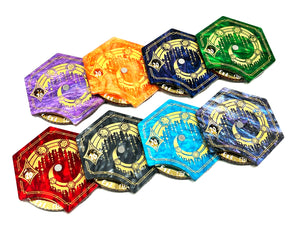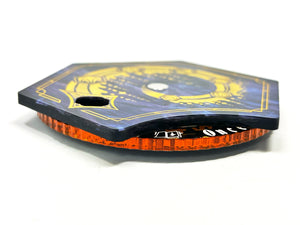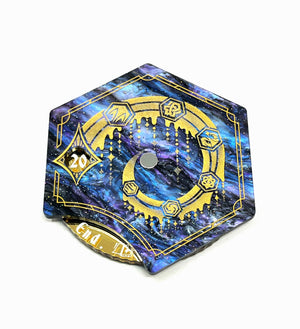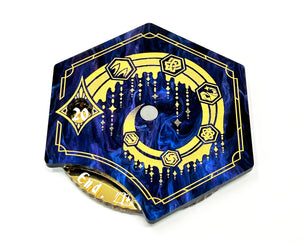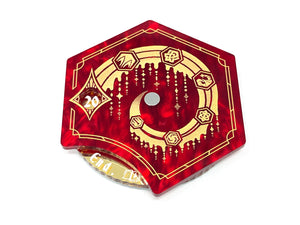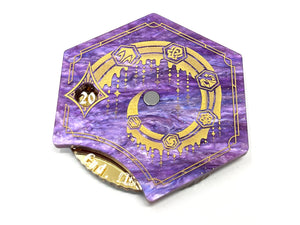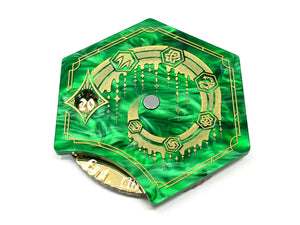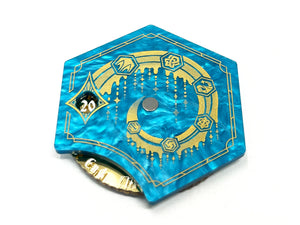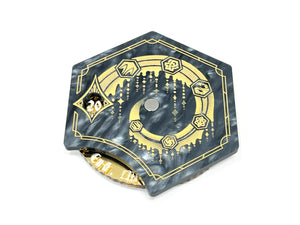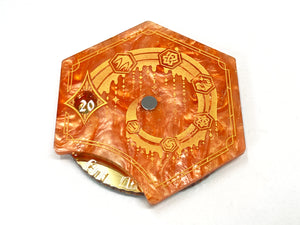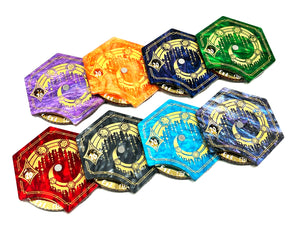 Lore Tracker Dial for Disney Lorcana TCG
What is it?
A lore Tracker dial for Disney Lorcana TCG

What makes it special?
Precision etched and laser cut with crisp, clear thematic details and combined with hand painted bold, vibrant gold paint, means that these Lore Tracker dials truly stand out on the table top, remaining clear and informative to all players.
We have chose to engrave and paint the artwork into the acrylic rather, than simply printing it on top of acrylic. This means these products are truly made to last and resistant to the dangers of the artwork and paint being scratched off over time.
Offered in multiple marble acrylic colours, including ink colours to match the game, these dials are design to fit inside a standard 62mm wide deck box.
Consisting of 3 layers of acrylic, the dial is elevated from the table surface to make dial manipulation with one hand a breeze.
What does this listing consist of?
This item consists of consists of:
1 x Lore Tracker Dial, comprising of 3 layers of acrylic. Top layer produced in choice of various marble acrylics and painted gold. The middle dial wheel layer is produced from single sided gold mirror acrylic and painted white. The bottom layer produced in marble acrylic matching top layer. Measuring 62mm x 62mm x 9mm
Why Choose BTST?
Designed and manufactured at the Buy The Same Token studio, in Sussex, England.
As gamers ourselves all our items are thoroughly play tested to ensure they are not only beautiful to behold but practical to play.
We use the best quality paints to ensure all our designs are not only thematic and striking but also easy to read.
All our items are robustly made from the finest materials, designed to last.
Lead Time:
Please refer to our "Lead Time" page from the main menu for current Lead Times.
Acrylic Technical Details:
PLEASE NOTE THAT DUE TO THE MANUFACTURING PROCESS OF MARBLE ACRYLIC, THE FRONT AND BACK FACES DIFFER SLIGHTLY IN COLOUR AND EFFECT. PLEASE SEE PHOTOS.
PLEASE BE AWARE THAT DUE TO THE SPECIFIC MANUFACTURING PROCESS OF MARBLE ACRYLIC, RIDGE LINES MAY BE APPARENT ON THE MATERIAL SURFACES. THESE ARE NOT CRACKS OR SCRATCHES.
PLEASE ALSO NOTE THAT DUE TO THE NATURE OF MARBLE ACRYLIC, SLIGHT VARIATIONS IN THE MATERIAL MAY DIFFER FROM THOSE PICTURED. 
These items are laser etched and cut from the highest quality 3mm acrylic and painted using high quality heavy body acrylic paint. Please see photos for scale comparisons.
These items are typically supplied with a white protective paper film front and back to protect them during production and transit which should be removed once received.
Although these items are cut from 3mm acrylic, this material is of low tolerance and therefore may deviate up to 0.7mm -/+ in thickness. Although every effort is made to ensure your tokens are table ready once received and peeled, if there any issues with your items please let us know so that we can make it right.
Disclaimer:
Ruler, miniatures, cards and backgrounds for scale purposes only.
These are third-party accessories designed and manufactured by Buy The Same Token. Though compatible they are not associated with or officially endorsed by Disney, Ravensburger or any other entity.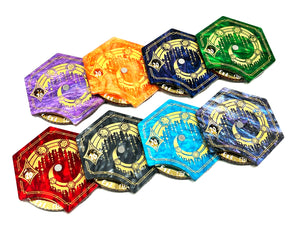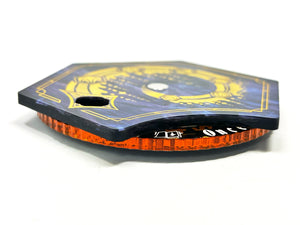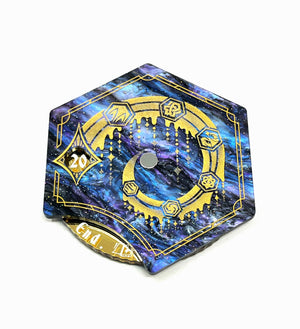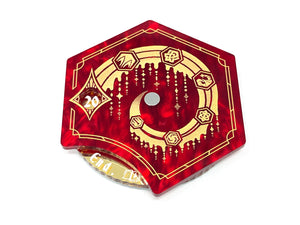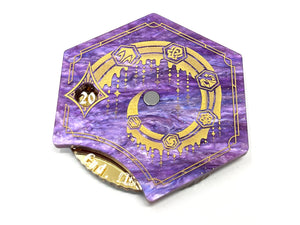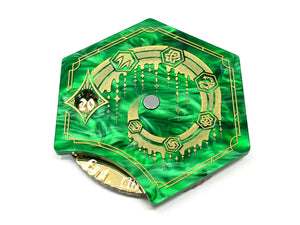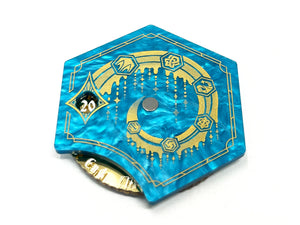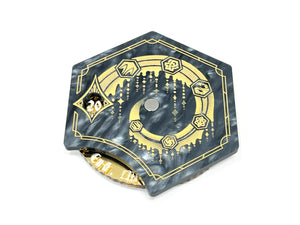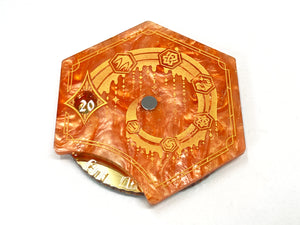 Beautifully crafted
Beautifully crafted and very well detailed.
Beautiful and we'll crafted
The title says it all. The counter is very smooth and looks nice. Would recommend! Only downside is that it's a bit difficult for the adversary to see the score but it's a minor issue.
Beautiful and better then advertised
Amazing dials. Love these things. Nicely made and etched. I didnt realize they were held together by magnets so they turn really nice.
Great counter (and tokens)
My only wish would be that it would be easier for an opposing player to be able to see / read the lore count.
Love it!
This a sturdy counter. Good, lord! Love the design and look. Great quality. Highly recommend.