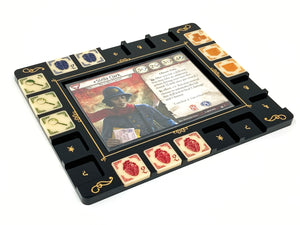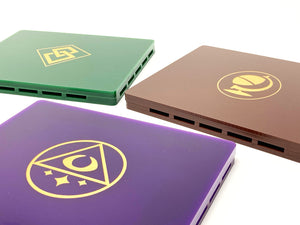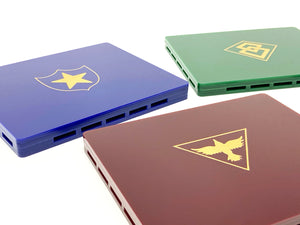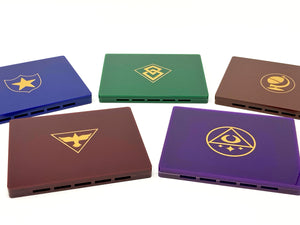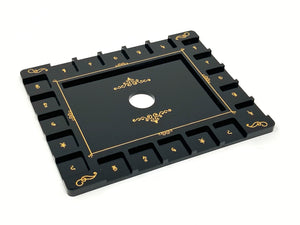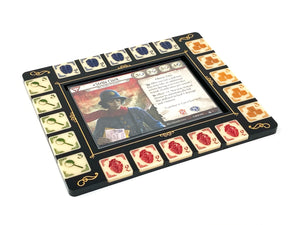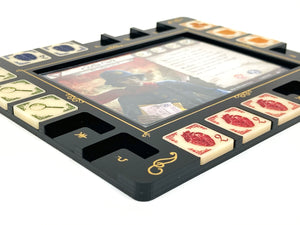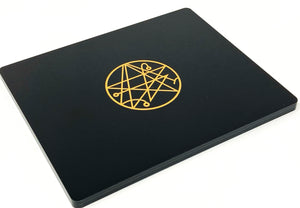 Investigator Board and Cover (magnetised) for Arkham Horror LCG
"I have seen the dark universe yawning
Where the black planets roll without tokens,
Where they roll in their horror unheeded,
Without knowledge, or lustre, or BuyTheSameToken"
What makes it special?
The Investigator board is designed to accommodate your sleeved investigator card and keep a tidy track of all the health, sanity, resource and clue tokens (SOLD SEPARATELY) during gameplay. With the addition of the magnetised cover plate, the tokens and investigator card are kept safely stored within.
Key features include:
Perfectly compatible with our double sided investigator tokens (sold seperatley)
Made from high quality 3mm acrylic
Laser etched, cut and painted using heavy body acrylic gold paint
8 Intergrated magnets within the board and cover, providing storage for the tokens within
Accommodates an FFG sleeved investigator card, with cut out in rear for easy removal
Token slots designed to 'lock' in and prevent our compatible tokens from sliding out without being lifted/flipped by hand.
Choice of 6 acrylic colours and 6 etched emblems
Multiple boards stack on top of one another thanks to incorporated magnets
Measures approximately 145mm x 119mm x 12mm inc. cover
What does this listing consist of?
This set / item consists of consists of the following:
1 x Investigator board and cover measuring approximately 145mm x 119mm x 12mm including cover1, painted gold.
OR
1 x Investigator board with NO cover measuring approximately 145mm x 119mm x 6mm painted gold.
Choice of the following colour acrylics and designs:
Acrylics:
Black (opaque)
blue (opaque)
green (opaque)
purple (opaque)
maroon (opaque)
brown (opaque)
Designs:
Survivor
Guardian
Seeker
Mystic
Rogue
Elder sign
Elder sign/Rune ring
Necronomicon
Why Choose BTST?
Designed and manufactured at the Buy The Same Token studio, in Sussex, England.
As gamers ourselves all our items are thoroughly play tested to ensure they are not only beautiful to behold but practical to play.
We use the best quality paints to ensure all our designs are not only thematic and striking but also easy to read.
All our items are robustly made from the finest materials, designed to last.
Lead Time:
Please refer to our "Lead Time" page from the main menu for current Lead Times
Acrylic Technical Details:
These items are laser etched and cut from the highest quality 3mm acrylic and painted using high quality heavy body acrylic paint. Please see photos for scale comparisons.
These items are typically supplied with a white protective paper film front and back to protect them during production and transit which should be removed once received.
Although most of our acrylic items are cut from 3mm acrylic, this material is of low tolerance and therefore may deviate up to 0.7mm -/+ in thickness. Although every effort is made to ensure your tokens are table ready once received and peeled, if there any issues with your items please let us know so that we can make it right.
Please note that due to the custom nature of these items, exchanges are not accepted for this item. Boards are supplied fully assembled with a clear or white protective film front and back which should be removed once received. Leaving the masking film on the underside of each board/cover plate will help reduce micro scratches appearing on under layers over time.
Disclaimer:
Ruler, miniatures, cards and backgrounds for scale purposes only.
These are third-party accessories designed and manufactured by Buy The Same Token. Though compatible they are not associated with or officially endorsed by Fantasy Flight Games, Asmodee or any other entity.