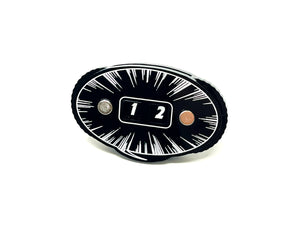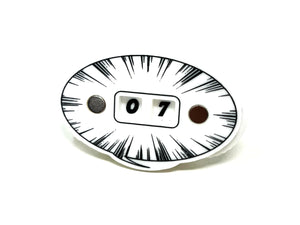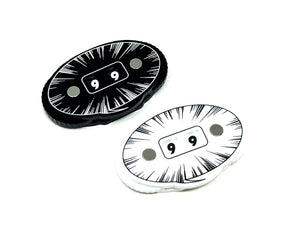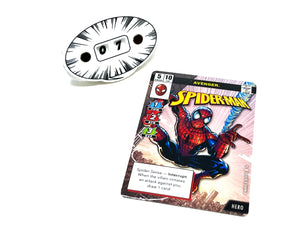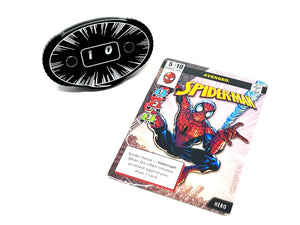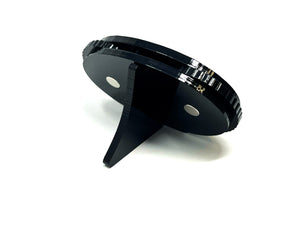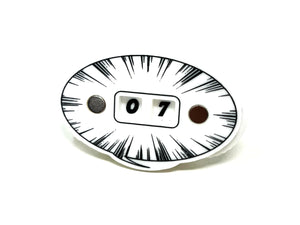 Hero Health Dial for Marvel Champions LCG
What makes it special?

With brightly painted etched details, smooth operating dial wheels and the optional ability to position them upright with an included rear stand, these easy-to-read and high contrasting hero health dials are both a thematic and practical upgrade for Marvel Champions LCG.
What does this listing consist of?
1 x Hero health dial, in choice of black or white acrylic, painted white or black respectively. Measuring approximately 63mm x 38mm fully assembled.
Why Choose BTST?
Designed and manufactured at the Buy The Same Token studio, in Sussex, England.
As gamers ourselves all our items are thoroughly play tested to ensure they are not only beautiful to behold but practical to play.
We use the best quality paints to ensure all our designs are not only thematic and striking but also easy to read.
All our items are robustly made from the finest materials, designed to last.
Lead Time:
Please refer to our "Lead Time" page from the main menu for current Lead Times
Acrylic Technical Details:
These items are laser etched and cut from the highest quality 3mm acrylic and painted using high quality heavy body acrylic paint. Please see photos for scale comparisons.
These items are typically supplied with a white protective paper film front and back to protect them during production and transit which should be removed once received.
Although these items are cut from 3mm acrylic, this material is of low tolerance and therefore may deviate up to 0.7mm -/+ in thickness. Although every effort is made to ensure your tokens are table ready once received and peeled, if there any issues with your items please let us know so that we can make it right.
Disclaimer:
Ruler, miniatures, cards, and backgrounds for scale purposes only.
These are third-party accessories designed and manufactured by Buy The Same Token. Though compatible they are not associated with or officially endorsed by Fantasy Flight Games, Asmodee, Marvel or any other entity.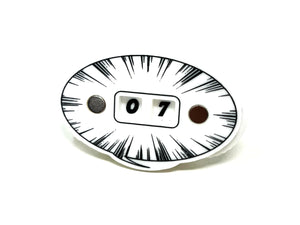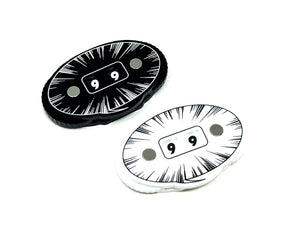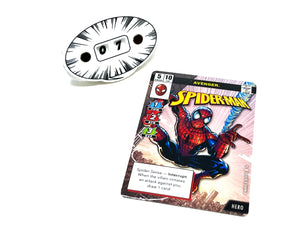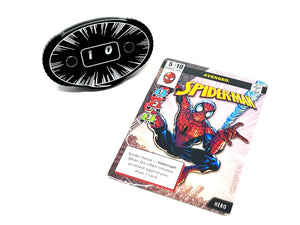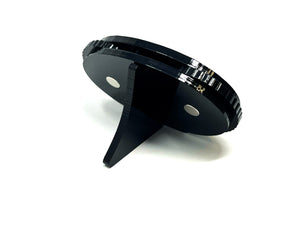 Hero Dial
As much as I love the tokens on the boards, this is so handy to use. The quality is tremendous, as usual, and storage for multiple dials is easy as they are magnetic and stick together.
High Quality Product
I am very pleased with these dials. I have 4 for the heros and 2 for the villians. They are very sturdy and feel good in the hands. The included stand is a very nice touch. I highly recommend!!
Great Addition to the Range!
I was surprised & happy to see these dials added to the Champions range. The cardboard versions you get in the core game get a lot of handling & are now a bit shabby... I've resisted buying replacements up to now, but thankfully BTST have delivered... I love their tokens, & have plenty of their Champions range, so this has been a helpful & welcome addition.
Great quality. Robust & easy to turn the dials. I like that yhere are two colour options as I usually play 2-handed. Hopefully we'll see more colour options... ;)
Very nice!
Work amazingly well and look very good.
Endurance
Playing Marvel Champions since 2019, my cardboard health dials from the core box are worn and faded since they are handled constantly throughout every game. I almost bought a second core box just to replace the dials and peeling cardboard tokens....until I found BuyTheSameToken.
These hero health dials, as with all of their products, are high quality in design and production. Also nice is that the design isn't specifically Marvel branded (though has an appealing comic book style fitting the theme of this game) so they could be used for other games. Worth the investment. These will outlast me!