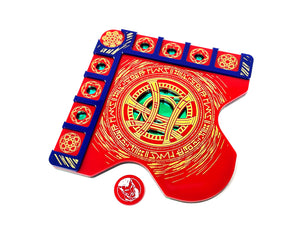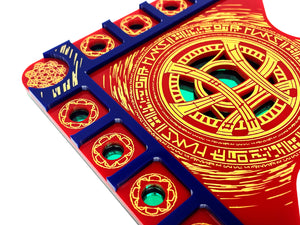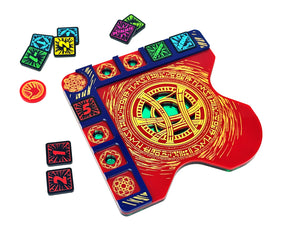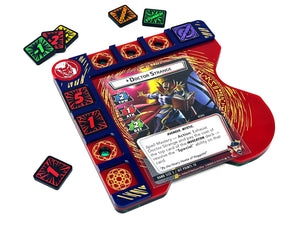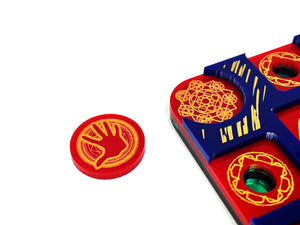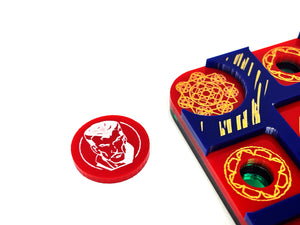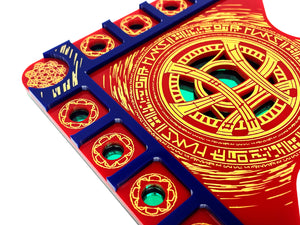 Doctor Strange Themed Hero board for Marvel Champions LCG compatible, (Tokens NOT Included)
Our Dr Strange themed Hero Boards have been specifically designed to fit the theme of the Marvel Champions LCG. Having played the game ourselves extensively since launch, we have taken our time to design Hero Boards that are both beautiful and functional. In addition to the dynamic and strongly contrasted artwork.
What makes it special?
We have included the following features that make these Hero Boards an essential purchase:
Activation Token: Each Hero Board comes with a hero specific Activation Token included. This is a double-sided removable token that you can use to show you have used your Hero Ability (for example when Cyclops uses his ability to search for a tactic card once per round).
Specifically designed to fit the Doctor Strange theme, the Eye of Agamotto sits squarely at the centre and features cut aways on the top surface, revealing the reflective green mirror behind.
Easy to Rotate Hero Cards: By only having borders on two sides you are able to rotate your Hero's card to show they are 'exhausted' without the need to rotate the entire board or picking it up.
Easy to Flip Hero Cards: With cut outs on two sides you are easily able to flip your Hero Card over between your Hero and Alter Ego sides.
Organisation: There are a range of spaces to hold your BTST Compatible Damage and Status Tokens without having to clutter your play area or cover your Hero Card.
Play Your Way: We have designed this board to be used how you like in terms of orientation. Whether you want to use your left or right hand to rotate and flip the cards, or would like the status and health tokens at the top of the board, bottom or sides, you can choose.
Why Choose BTST?
Designed and manufactured at the Buy The Same Token studio, in Sussex, England.
As gamers ourselves all our items are thoroughly play tested to ensure they are not only beautiful to behold but practical to play.
Our tokens are all double sided and easy to flip over.
We use the best quality paints to ensure all our designs are not only thematic and striking but also easy to read.
All our items are robustly made from the finest materials, designed to last.
Lead Time:
Please refer to our "Lead Time" page from the main menu for current Lead Times
Measurements:
Designed to accommodate a range of sleeves including FFG (67mm x 94mm) - Token slots designed to accommodate our compatible 'Marvel Champions Tokens" (SOLD SEPARATELY) - inset rubber feet on the base of the Hero Boards keeps them firmly in place during games. - Boards measure approximately 121.5mm x 121.5mm x 9mm
Acrylic Technical Details:
These items are laser etched and cut from the highest quality 3mm acrylic and painted using high quality heavy body acrylic paint. Please see photos for scale comparisons.
These items are typically supplied with a white protective paper film front and back to protect them during production and transit which should be removed once received.
Although these items are cut from 3mm acrylic, this material is of low tolerance and therefore may deviate up to 0.7mm -/+ in thickness. Although every effort is made to ensure your tokens are table ready once received and peeled, if there any issues with your items please let us know so that we can make it right.
Disclaimer:
Ruler, miniatures, cards, and backgrounds for scale purposes only.
These are third-party accessories designed and manufactured by Buy The Same Token. Though compatible they are not associated with or officially endorsed by Fantasy Flight Games, Asmodee, Marvel or any other entity.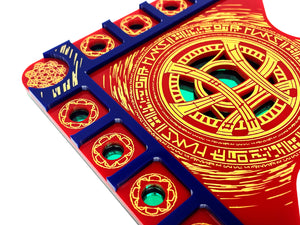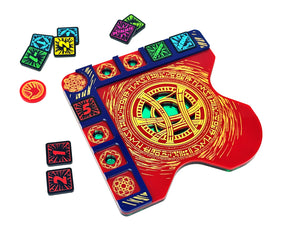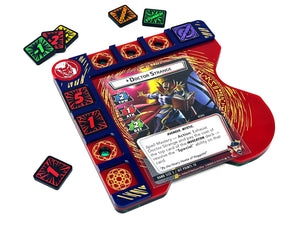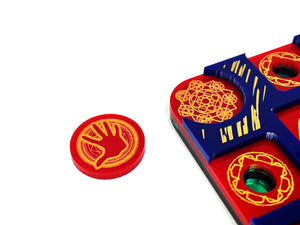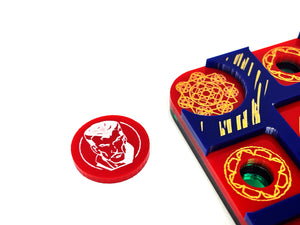 Best Hero Boards On The Market
Everything that Buy The Same Token makes for Marvel Champions compliments the game perfectly. From the art right through to the comic font. Every design choice has Marvel comic books in mind. This company understands the subject matter and obviously cares a great deal about the end result. I wont buy my Marvel Champions upgrades from anyone else.
Super colourful
One of the best products in the Marvel LCG range, really pops out on the table :)
Dr Strange Board
As ever, tremendously well made and looks great. Highly recommended.
Amazing!
The pictures really don't do justice to how good this looks!!
The mirrored green backplate is gorgeous! I think this has replaced the x-men design as my favourite hero board!