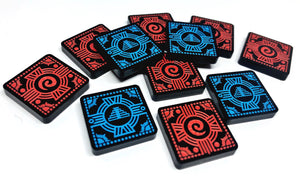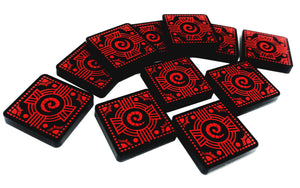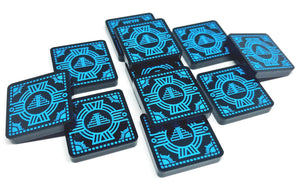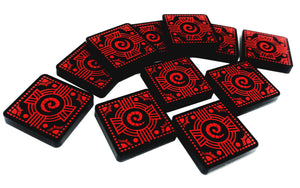 Forgotten Age Doom/Clue tokens (double sided) for Arkham Horror LCG
"I have seen the dark universe yawning
Where the black planets roll without tokens,
Where they roll in their horror unheeded,
Without knowledge, or lustre, or BuyTheSameToken"
What makes it special?
These thematic Arkham Horror LCG compatible "Clue / Doom Tokens" are etched on both sides
We have been inspired by Aztec Imagery found in the British Museum, with the blue Clue side being depicted by a temple and the red Doom side being represented by the snake.
This is a change from our normal 1/2 doom sided tokens as there is often a need to flip tokens from Clue to Doom in numerous Forgotten Age scenarios.
What does this listing consist of?
This set / item consists of consists of the following:
- 1 x Clue/Doom tokens (Solid Black Acrylic, painted Red one side to represent Doom, Blue the other to represent a Clue)
OR
- 11 x Clue/Doom tokens (Solid Black Acrylic, painted Red one side to represent Doom, Blue the other to represent a Clue)
Why Choose BTST?
Designed and manufactured at the Buy The Same Token studio, in Sussex, England.
As gamers ourselves all our items are thoroughly play tested to ensure they are not only beautiful to behold but practical to play.
Our tokens are all double sided and easy to flip over.
We use the best quality paints to ensure all our designs are not only thematic and striking but also easy to read.
All our items are robustly made from the finest materials, designed to last.
Lead Time:
Please refer to our "Lead Time" page from the main menu for current Lead Times
Acrylic Technical Details:
These items are laser etched and cut from the highest quality 3mm acrylic and painted using high quality heavy body acrylic paint. Please see photos for scale comparisons.
These items are typically supplied with a white protective paper film front and back to protect them during production and transit which should be removed once received.
Although the vast majority of our acrylic items are cut from 3mm acrylic, this material is of low tolerance and therefore may deviate up to 0.7mm -/+ in thickness. Although every effort is made to ensure your tokens are table ready once received and peeled, if there any issues with your items please let us know so that we can make it right.
Disclaimer:
Ruler, miniatures, cards and backgrounds for scale purposes only.
These are third-party accessories designed and manufactured by Buy The Same Token. Though compatible they are not associated with or officially endorsed by Fantasy Flight Games, Asmodee or any other entity.