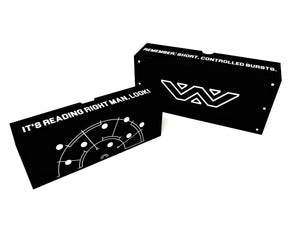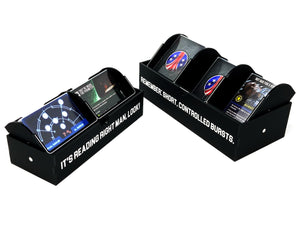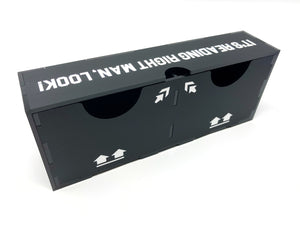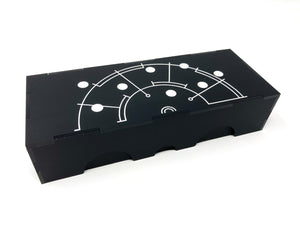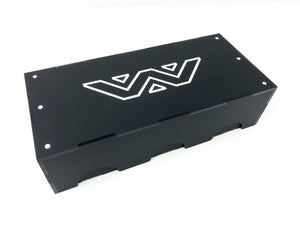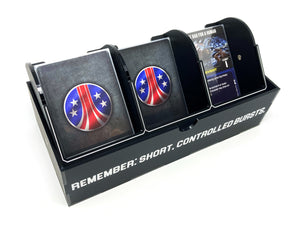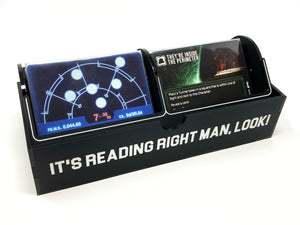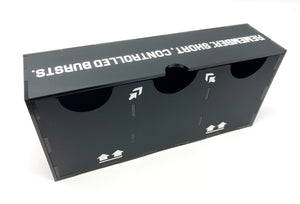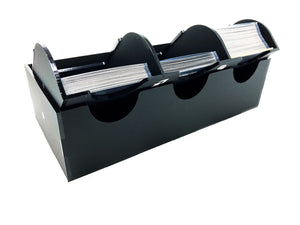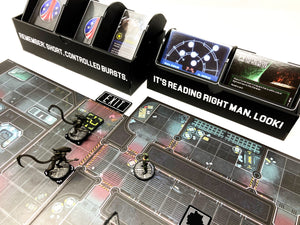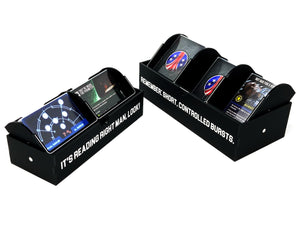 Endurance And Motion Tracker Deck Boxes for Aliens: Another Glorious Day In The Corps
"All right, people, what are you waiting for? Breakfast in bed? Another glorious day in the corps! A day in the Marine Corps is like a day on the farm. Every meal's a banquet! Every pay check a fortune! Every formation a parade! I love the corps!"
What does this listing consist of?
1 x Dual compartment Motion Tracker card deck box - etched, cut and assembled from matt black 3mm acrylic and painted white.
Eternal dimensions when nested as follows; 205mm x 80mm x 46mm
1 x Triple compartment Endurance card deck box - etched, cut and assembled from matt black 3mm acrylic and painted white.
Eternal dimensions when nested as follows; 232mm x 105mm x 61mm

What makes it special?

These thematic motion tracker and endurance deck boxes have been designed to not only allow easy access and visibility during play but to also make set up, tear down and saving your progress between missions a breeze.

Key features within this set include:

- Designed and sized to fit premium thickness sleeved cards
- Newly Designed to accommodate all endurance and motion tracker cards from core set and expansions
- Sturdy 3mm acrylic construction keeps your cards protected during storage and stable on the table during use
- Both deck boxes fit within core set box (without insert)
- Cards are kept elevated during use to add greater visibility
- Slots on rear allow for easy access and deck retrieval before a reshuffle
- Aesthetically designed to add immersion to the game
- Made from non reflective scratch resistant matt black acrylic
Why Choose BTST?

Designed and manufactured at the Buy The Same Token studio, in Sussex, England.
As gamers ourselves all our items are thoroughly play tested to ensure they are not only beautiful to behold but practical to use.
All our items are robustly made from the finest materials, designed to last.
Our items are etched, painted and assembled with great care In our London studio to the highest standard with quality vibrant paint to ensure you have a solid consistent colour.
Lead Time:
Please refer to our "Lead Time" page from the main menu for current Lead Times
Acrylic Technical Details:
These items are laser etched and cut from the highest quality 3mm acrylic and painted using high quality heavy body acrylic paint. Please see photos for scale comparisons.
Although these items are cut from 3mm acrylic, this material is of low tolerance and therefore may deviate up to 0.7mm -/+ in thickness. Although every effort is made to ensure your tokens are table ready once received, if there any issues with your items please let us know so that we can make it right.
Disclaimer:
Ruler, miniatures, cards and backgrounds for scale purposes only.
These are third-party accessories designed and manufactured by Buy The Same Token. Though compatible they are not associated with or officially endorsed by Gale Force Nine, Aliens or any other entity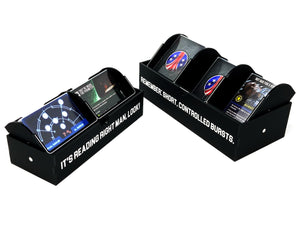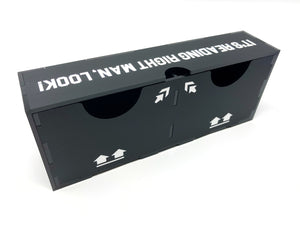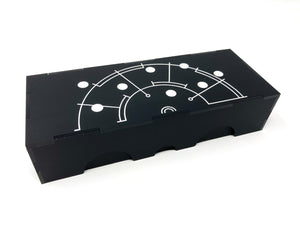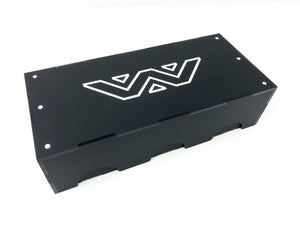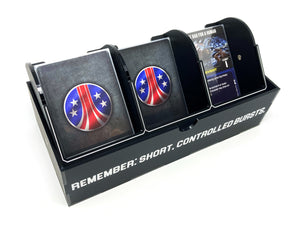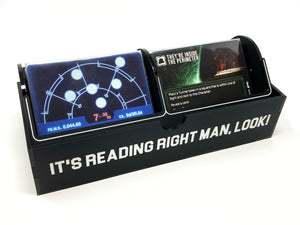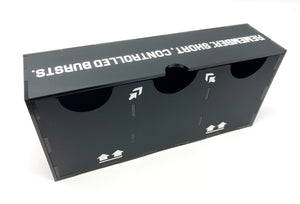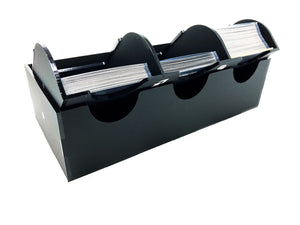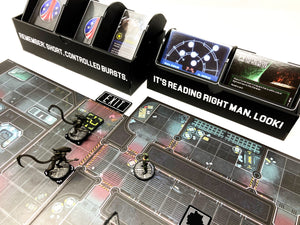 Perfect !
Very good material, well design and very usefull to manager the motion tracker cards and endurance cards.
Works perfectly with sleeved cards.
And quick delivery
Great job, thanks a lot