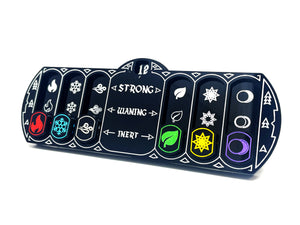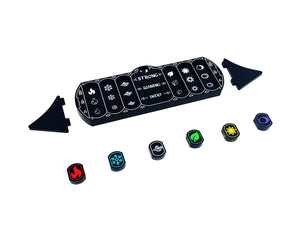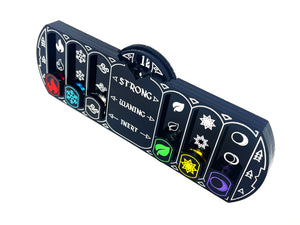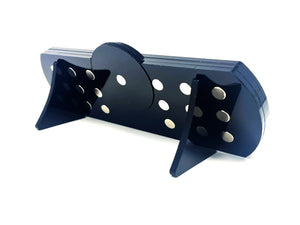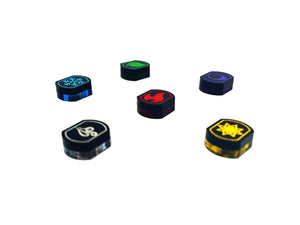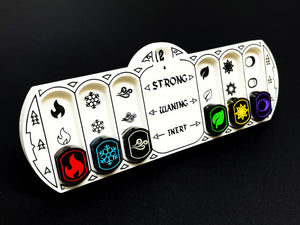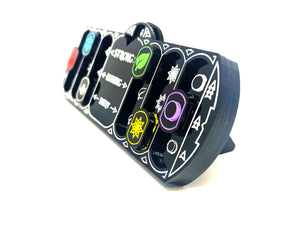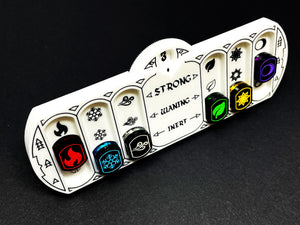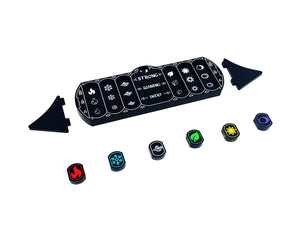 Element Tracker compatible with Frosthaven, Gloomhaven and Jaws of the Lion
What is it?

An Element Tracker compatible with Frosthaven, Gloomhaven and Jaws of the Lion.
What makes it special? 

This expertly crafted element tracker is produced from multiple layers of 3mm acrylic, resulting in a compact, yet solid and aesthetically pleasing accessory. 
Featuring no less than 26 magnets incorporated into the element tracker and element tracker tokens, each element is a joy to adjust and yet firmly kept in its designated space.
Featuring 2 detachable stands, the tracker can be elevated vertically to assist players viewing the current active element while also allowing the tracker to be stored away easily when not in use.
This tracker features a central tracker dial incorporated in its centre allowing the party to track up to 12 rounds.

Mirrored acrylic backed element tokens add additional immersion, catching the light helping them to stand out and shine during use.
What does this listing consist of?
Each Element Tracker is produced from multiple layers 3mm acrylic and measures 133mm x 53mm x 9mm (without tokens or rear stands) 
1 x Element Tracker, in a choice of black opaque acrylic painted white or white opaque acrylic painted black.

6 x Element Tracker tokens, produced from two layers of acrylic, one layer of black acrylic and one layer of mirrored acrylic and etched on one side. Painted each of the six elemental colours (red, light blue, parchment, light green, yellow and purple) on one side.

2 x Element Tracker stands cut from 3mm acrylic in the choice of black or white acrylic.
Why Choose BTST?
Designed and manufactured at the Buy The Same Token studio, in Sussex, England.
As gamers ourselves all our items are thoroughly play tested to ensure they are not only beautiful to behold but practical to play.
Our tokens are all double sided and easy to flip over.
We use the best quality paints to ensure all our designs are not only thematic and striking but also easy to read.
All our items are robustly made from the finest materials, designed to last.
Lead Time:
Please refer to our "Lead Time" page from the main menu for current Lead Times
Technical Details:
All our tokens are laser etched and cut from the highest quality 3mm acrylic and painted using high quality heavy body acrylic paint. Please see photos for scale comparisons.
Our tokens are typically supplied with a white protective paper film front and back to protect them during production and transit which should be removed once received.
Although all our tokens are cut from 3mm acrylic, this material is of low tolerance and therefore may deviate up to 0.7mm -/+ in thickness. Although every effort is made to ensure your tokens are table ready once received and peeled, if there any issues with your items please let us know so that we can make it right.
Ruler, miniatures, cards and backgrounds for scale purposes only.
Disclaimer:
These are third-party accessories designed and manufactured by Buy The Same Token. Though compatible with Gloomhaven, Gloomhaven: Jaws of the Lion and Frosthaven they are not associated with or officially endorsed by Cephalofair Games or any other entity.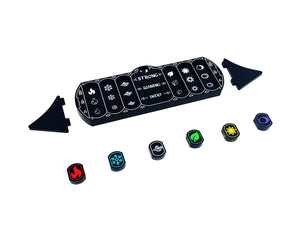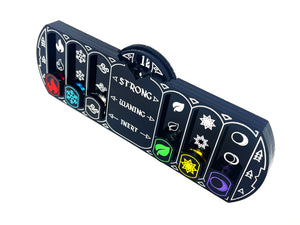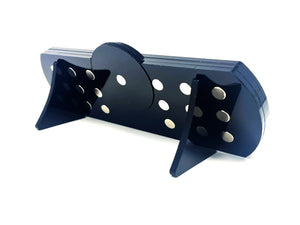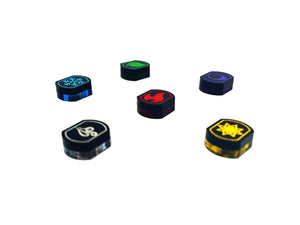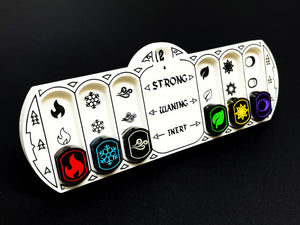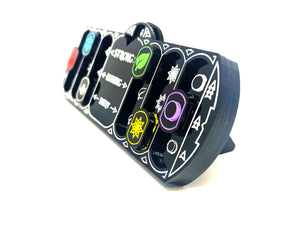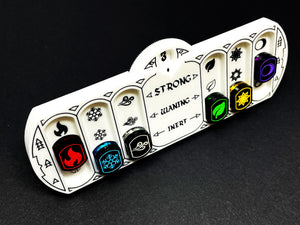 High Quality Element Tracker
The tracker is very well made, and the different elements have a nice, audible snap as the magnets take hold. This will make it a lot more obvious where elements are during the game, as sometimes they fall to the wayside with everything else on the table and a small, flat element tracker.
If you love to add bling to your game…
I was initially put off at the price of this item, but I am so pleased that we got it. It looks gorgeous! It has a smaller footprint than the mat tracker that comes with the games and there is something that is instinctively satisfying when you click the markers to their correct spot. The magnets are super strong and I like the looks of this so much I am considering buying the health/XP personal markers despite their hefty price tag. If you are debating is this worth the price, my recommendation is to make the purchase!
Awesome Quality
It's exactly what we were expecting and the quality is great! There won't be any issues seeing if the element is Strong or Waining anymore as the magnets snap in the correct place. No more "on the line" elements that accidentally slid.
Beautiful and high quality
The quality of these are amazing. They also greatly enhance the experience and are much easier to keep up with than the included tracker