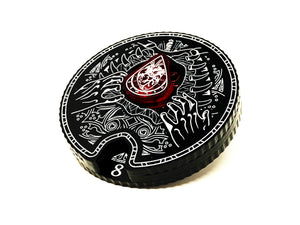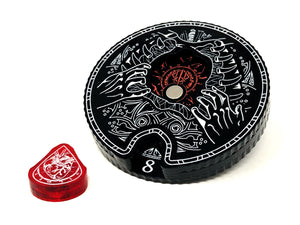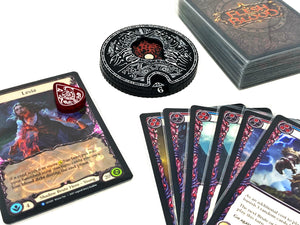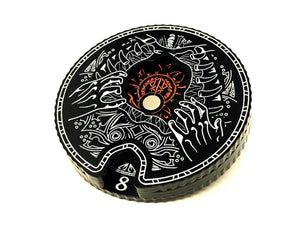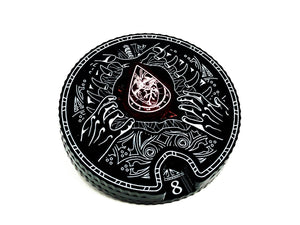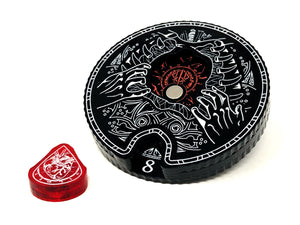 1 x Blood Debt Tracker Dial for Flesh and Blood TCG
What is it?
An acrylic dial to help display and keep track of your blood debt total during play.
What makes it special?
This gruesomely thematic Blood Debt Dial is the perfect accessory for tracking your total blood debt owed. Gone are the days of repeatedly counting banished cards each round. Simply glance at the visceral open chest cavity to determine if the blood debt has been paid and pull the beating heart from its rib cage when satisfied.
This dial features:
A large bold font with high contrasting colours that can be easily read at a glance from your person.
Strong magnets on both the dial wheel and the central removable heart, makes removing the token feel like pulling a still beating heart from an open chest (we assume).
A design with card storage in mind that fits within the profile of a standard game card, allowing it to be stored within a deck box for safe and easy transport.

Beautifully thematic and immersive illustration, including a motive that depicts the user prising open there own chest in order to satisfy the blood debt.
Denominations that can track the debt up to twenty.

What does this listing consist of?
This listing consists of:
1 x Blood Debt Tracker Dial, comprising of 3 layers of black acrylic (9mm thick total), painted metallic silver white and metallic red.
Laser etched, cut and constructed from 3 layers of acrylic and hand painted, this dial measures approximately 62mm x 9mm.

1 x Blood Debt Token, comprising of two layers of translucent red acrylic, painted white on both sides. Measuring approximately 17mm x 22mm.
Why Choose BTST?
Designed and manufactured at the Buy The Same Token studio, in Sussex, England.
As gamers ourselves all our items are thoroughly play tested to ensure they are not only beautiful to behold but practical to play.
Our tokens are all double sided and easy to flip over.
We use the best quality paints to ensure all our designs are not only thematic and striking but also easy to read.
All our items are robustly made from the finest materials, designed to last.
Lead Time:
Please refer to our "Lead Time" page from the main menu for current Lead Times
Acrylic Technical Details:
These items are laser etched and cut from the highest quality 3mm acrylic and painted using high quality heavy body acrylic paint. Please see photos for scale comparisons.
These items are typically supplied with a white protective paper film front and back to protect them during production and transit which should be removed once received.
Although these items are cut from 3mm acrylic, this material is of low tolerance and therefore may deviate up to 0.7mm -/+ in thickness. Although every effort is made to ensure your tokens are table ready once received and peeled, if there any issues with your items please let us know so that we can make it right.
Disclaimer:
Ruler, miniatures, cards and backgrounds for scale purposes only.
These are third-party accessories designed and manufactured by Buy The Same Token. Though compatible they are not associated with or officially endorsed by Legend Story Studios, Flesh and Blood or any other entity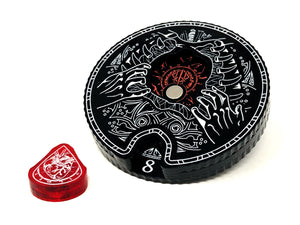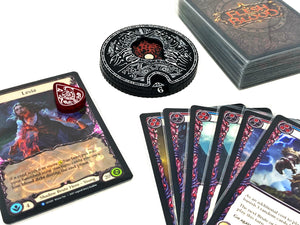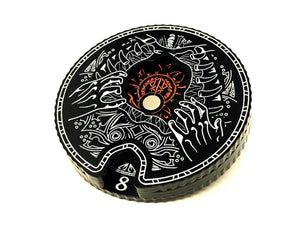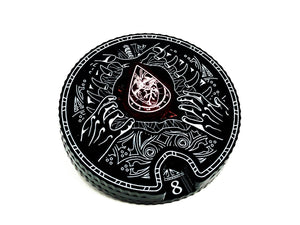 Blood Debt…..but cool
This thing is really cool! Classy way to keep track of blood debt while playing as the queen. Great quality, solid product. Would absolutely buy this again if needed.
Genuinely great for blood debters like me
The absolutely amazing art, stark and clear coloring, ease of use, insanely strong magnet for hold the blood drop when not in use, and small touches like inscriptions behind the blood token make this such an amazing thing to break out with Levia.
Honestly, ignore FaB, this can really be great for so many other applications as well. Definitely blown away by this!
Good quality token, fast shipping
Review from Thailand
This token was nice. Good design and easy to use.
Fast shipping (Get around a couple of weeks from UK to Thailand via registered Air mail)
Will re-purchase for sure.